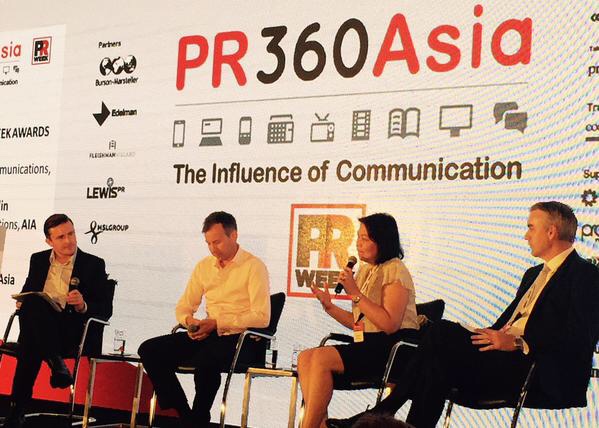 The recently concluded conference PR360Asia in Hong Kong had some interesting discussions and debates on topics like: the evolving shape of the PR industry, criteria for award winning campaigns, leveraging disruption, the changing face of PR and technology, data & measurement.
The topics were discussed by industry veterans and agency heads who shared their experiences about the real issues and challenges faced by the PR community and suggestions on the strategies and solutions that can be implemented.
Here are some key takeaways and learning's from the sessions:
Changing Face of PR and the impact of Technology: Data analytics has been the trending topic across all media but using insights from the data for a PR campaign is something that professionals in the industry should explore. One can use tools like Google Trends or Greek Yogurt to find out the trending topics and can weave campaigns/stories embedding these topics. The data can also be used to plan more effective PR strategies and to further communication's standing in the boardroom.
Measurement and ROI in the industry: The PR industry has been grappling with the need of forming a unified metric for the campaigns, however there is a dire need of showcasing the business impact/value that PR brings on the table. This can be done by using software tools that go beyond measuring the Advertising Value Equivalent.
Campaign Ideas: It is very important to plan the campaigns for your clients right at the beginning, think of small ideas that can be weaved into a thread of stories. The campaigns should be crafted keeping in mind the business objectives of the client and the outcome/ROI that is expected.
Focus on 360degree approach: Once you have charted the campaign, make sure you map the media outreach based on the stakeholders or target audience you would like to reach out to. This makes sure that the campaign is effective and results driven
Social Media: Sooner or later social media will become a mainstream media for companies. With always on and active consumers sharing updates on this platform, PR pros will not have a choice but to come up-to-speed with listening and executing campaigns on social media.
Creativity in PR: The PR industry has been criticized for lacking creativity or the need to constantly experimenting/innovating with ways to do things. There is a dire need to look at your brand from a different lens, break through the traditional campaigns and explore inventive ideas that reach out to the stakeholders beyond the media. For instance, explore mobile marketing campaigns make use of visual creatives like Videos, Charticles etc. but make sure that it is in sync with the client objectives.
The PR industry needs professionals who go beyond the daily churn of delivering media coverage and dare to think differently and innovate for their clients. Having said that, professionals now have to 'wear more hats' and also provide specialist counsel.